Vilamoura Dom Pedro Millennium
Course information & details
Description:
Millennium Golf Course is surely one of the most pleasant golf courses ever built in Portugal, that is why as become the most popular golf course in Vilamoura .This is especially due to its excellent positioning in the surrounding landscape, to the investment made in forestation and landscaping and to the quality and diversity of the golf course itself, resulting from the extreme care taken in its design and building. A pleasure to any golfer who enjoy social but still competitive golf courses.
More Info ...
Details
Rates
Course Map
Location
Add to Shopping Cart
Details
18
72
6176 m / 6794 yd
5820 m / 6402 yd
4767 m / 5244 yd
Bermuda Tifton 419
Bentgrass Var Penn A4
Bermuda Tifton 419/Overseeded with Lollium Perenne
Gents < 28 | Ladies < 36
Facilities
n/a
Martin Hawtree
Oceânico Golf, S.A.
Eduardo Sousa
Abílio Coelho
Paulo Tomé
Information
Everyday from 7:45am to 8:00pm
Everyday from 7:45am to 8:00pm
Yes
Yes
Yes
With Restaurant and Snack bar
n/a
Manual and Electric
Titleist
Resident professionals
Yes
Up to 17 years old
Tecnical
Minor slopes
3/ 4 holes slightly winding
With Umbrella Pines
Only on holes 1,2, and 8,9
Reasonable flat course
On 5 holes
Yes
5th
Can be a good scoring course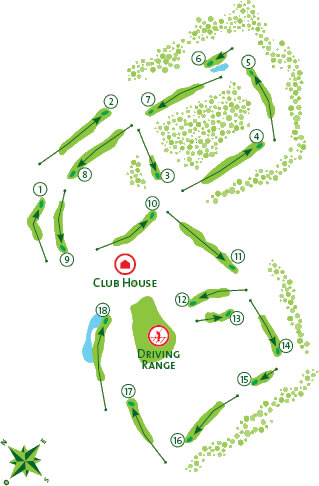 Directions:
If you are coming from Lisbon or Porto, take the A2 motorway in the direction of the Algarve and when you reach the A22 Via do Infante motorway head in the direction of Faro. Continue until the exit to Vilamoura, then continue straight on and at the traffic lights turn left on to the EN 125 in the direction of Faro. After a few kilometres, the entrance to Vilamoura is on your right.
GPS:
Lat:
Lon:
Directions from:
Ok