Benamor Golf Course
Course information & details
Description:
Benamor golf course was the first golf course to open east of the Algarve, and lies just outside the city of Tavira. This course offers a pleasant experience, to players of all standards. The golf course is undulating but not hilly. The views of the mountains to the North and the Atlantic Ocean to the South are stunning. The fairways of Bermuda Sahara and cool-season grasses provide good lies for wood and iron shots. Player's accuracy is particularly called upon by the architects' retention of as many of the old trees as feasible. These natural obstacles coupled with strategically placed bunkers and occasional water hazards make the course a worthwhile challenge. This golf course was selected as the Best Maintained Course in 2001 by the Portuguese Golf Federation.
More Info ...
Details
Rates
Course Map
Location
Add to Shopping Cart
Details
18
71
5456 m / 6002 yd
5155 m / 5671 yd
4719 m / 5191 yd
Bermuda
Penn A4
Penn A4
Gents < 28 | Ladies < 36
Facilities
n/a
Sir Henry Cotton
Benamor Actividades Turísticas, S.A.
Joao Paulo Sousa
Keith Ashdown and Bart Van Der Wind
Nuno Conceicao
Information
Everyday from 7:00am to 8:00pm
Everyday from 7:00am to 8:00pm
Yes
Yes
Yes
With Restaurant and Snack bar
Without GPS
Manual and Electric
Full Set
Resident Professionals
Yes
Up to 16 years old
Tecnical
Parkland / Heathland
Most of the fairways very undulated
Prominent hills in some parts of the course
13th
Only the 13th hole has a rivulet crossing the fairway
A few trees come into play on a few holes
As the fairways are a bit open the wind will have to be taken in consideration
Nothing at 90 degrees, but long fading dog legs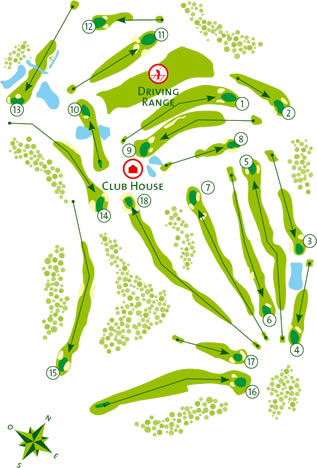 Directions:
Via Infante (A22) - Take Tavira Exit-15 and at first roundabout take the road south to Tavira. At the next roundabout which is on the Road EN 125 bear to the left to drive east in the direction of Vila Real de Santo António and Spain. The course is about 5 kms east of Tavira on the left side of this road and can be easily seen prior to turning left into the course.
GPS:
Lat:
Lon:
Directions from:
Ok