Monte Rei North Golf Course
Course information & details
Description:
Monte Rei Golf Course, is set in the picturesque foothills of the Eastern Algarve, with sweeping views of the Serra do Caldeirão mountains to the north and the Atlantic Ocean to the south. A truly unique design; with water coming into play on eleven of the eighteen holes, Monte Rei golf course features an enjoyable series of eight par-4s, five par-3s and five par-5s in a challenging and distinctive layout. Monte Rei golf course presentation is highly individual, each hole a design gem blending effortlessly into this natural canvas, from its ingenious shape and sculptured bunkers, to the impressive presentation and attention to detail making every golf hole as remarkable as the next; fairways and greens are bordered by several lakes, indigenous plants, native grasses and trees adding drama to the landscape, and providing golfers with unforgettable moments to cherish in this unique and tranquil golf environment.
More Info ...
Details
Rates
Course Map
Location
Add to Shopping Cart
Details
18
72
6567 m / 7224 yd
6030 m / 6633 yd
4845 m / 5330 yd
Bermuda
Bermuda
Bent Grass
Gents < 24 | Ladies < 32
Facilities
n/a
Jack Nicklaus
Cacela Golfe Lda.
Darren Griffiths
Stuart Martin
Joao Goulao
Information
Everyday from 7:00am to 7:00pm
Everyday from 7:00am to 7:00pm
Yes
Yes
Yes
With Restaurant and Snack bar
With GPS
n/a
Callaway
Resident professionals
Yes
Up to 16 years old
Tecnical
Rolling Fairways with several elevated tees
On several holes
Very on elevated tees and open fairways
Inc in Green Fee
Designed wonderfully for cutting off or laying up?
Yes
Hard to choose one of several great holes
The best golf course in Portugal or Spain , a delicious experience for special ocasions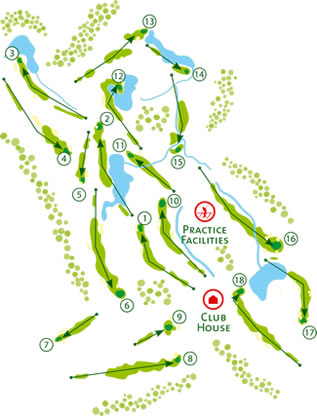 Directions:
From Faro take the A22 in the direction of Spain, exit the A22 at the Tavira junction, follow signs to Tavira, and at the main roundabout on the N125 road take 3rd exit in the direction of VRS. Antonio, after 11 km you will see a large blue sign on the left hand side of the road indicating to turn left for Monte Rei Golf & Country Club; follow signs through the quaint village of Santa Rita and then pick up the directional signage to the Monte Rei golf course.
GPS:
Lat:
Lon:
Directions from:
Ok