Salgados Golf Course
Course information & details
Description:
Salgados Golf Course, situated in one of the best-known regions of the Algarve, between Albufeira and Armação de Pêra, and is already a 'postcard' of Portugual golf courses. In fact, the proximity of the sea and the variety of lakes make this a very unique and interesting test of golfing skills, different from other courses in the Algarve.
The 6,000 metre links, replete with water obstacles, is not very long, but the sea breeze obliges players to use all theyr skills to reach the greens. The accuracy of the drive is crucial for achieving good scores, thus making the course a pleasant experience, especially for technically-skilled player.
More Info ...
Details
Rates
Course Map
Location
Add to Shopping Cart
Details
18
72
6140 m / 6754 yd
5700 m / 6270 yd
4756 m / 5232 yd
Bermuda
Penn Cross
Bermuda
Gents < 27 | Ladies < 36
Facilities
n/a
Pedro Vasconcelos
Carlos Saraiva IV Hoteis - Exploração Turística, SA
Pedro Silvestre
John Wood
Helena Inácio
Information
Everyday from 7:45am to 8:00pm
Everyday from 7:45am to 8:00pm
Yes
Yes
Yes
With Restaurant and Snack bar
n/a
Manual and Electric
Full Set
Resident professionals
Yes
Up to 17 years old
Tecnical
Probably a bit more than links
Totally flat course in Algarve
If Essential
6th par 5
On every hole, being this courses theme
New Palm trees giving a nice feature
Yes, very. Wind direction playing a major part
Winding round water
a Unique golf course Good value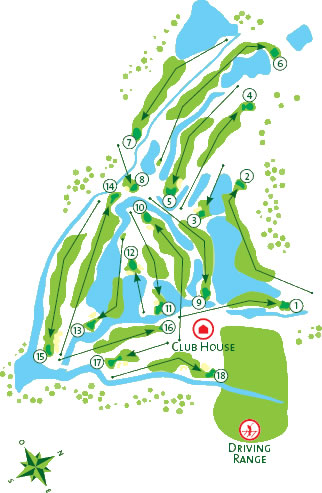 Directions:
Coming from Faro in the EN 125, turn left at Guia. At the first lights, turn right. The course is about 1 Km further on the left side.
GPS:
Lat:
Lon:
Directions from:
Ok