Vila Sol Golf Course
Course information & details
Description:
Vila Sol Golf Course, one of the best Golf Course in Portugal , is characterized by its beautiful natural surroundings with a vast range of fauna, animal and plant life. Vila Sol Golf stretches along a wide valley, naturally sculpted by Mother Nature and divided into three loops with three different levels of difficulty: Prime, Challenge and Prestige.
Against this backdrop, full of trees and wildlife, carefully looked after and protected by specialist staff, golfers can discover an environment par excellence which will envelop them throughout the day. From the 1st tee to the Clubhouse, a large team of professionals are at work, and remain at your disposal to make this paradise a unique, unforgettable experience.
The Clubhouse, with its central location, is the starting and finishing point for each of the three 9-hole loops: the first heads to the East, the second to the West and the third to the South. You can also practice your game at the excellent driving range of around 300 meters, alongside the Clubhouse.
More Info ...
Details
Rates
Course Map
Location
Add to Shopping Cart
Details
27
72
8880 m / 10357 yd
3241 m / 9768 yd
7989 m / 8791 yd
Bermuda Tifton 419
Bent Grass
Bermuda Tifton 419
Gents < 27 | Ladies < 35
Facilities
n/a
Donald Steel
Pinheiro Mar, SA
n/a
Richard Hudson
Miguel Grosso
Information
Everyday from 7:00am to 8:00pm
Everyday from 7:45am to 8:00pm
Yes
Yes
Yes
With Restaurant and Snack bar
n/a
Manual and Electric
Standard
Resident professionals
Yes
Up to 16 years old
Tecnical
Mainly sweeping fairways
Good selection on the original 18
Heavily with Umbrella Pines
Only if essential
Few on all groups of 9 holes
Totally
7th on the original front 9
Very good course, always in demand.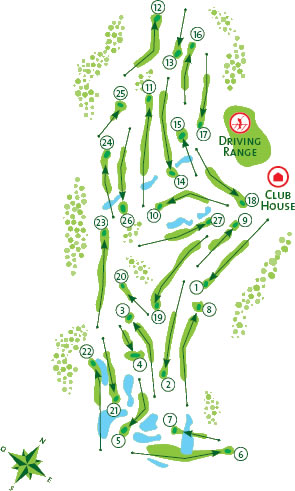 Directions:
Head in drection of the A22/ EN125.|After aproximately 3km turn right, in direction of 'Lisbon/Portimão/Loulé'|After 4km turn right in direction of 'Almancil'|Continue on the EN125 for 8,5km until you reach a crossroad with traffic lights, after a BP station.|Turn left towards 'Quarteira/Vilamoura' until you reach Vila Sol, approximately 1,5km after Aquashow.
GPS:
Lat:
Lon:
Directions from:
Ok