Alto Golf Course
Course information & details
Description:
Alto Golf & Country Club, located in Portugal's Western Algarve, is a premier golf and country club resort, set in beautifully landscaped gardens with villas, apartments and townhouses, many with superb views of the sea, the golf course or the fabulous gardens.
The winding fairways and elevated greens reflect Sir Henry's golfing philosophy of providing low handicap players with a testing game and still affording plenty of enjoyment for players at average club level and providing satisfaction and inspiration for beginners. The opening nine holes offer fine views over the bay of Lagos. The back nine, set on rolling slopes, include the remarkable Henry Cotton Challenge, the longest Par 5 in Europe.
More Info ...
Details
Rates
Course Map
Location
Add to Shopping Cart
Details
18
70
5432 m / 5975 yd
5178 m / 5696 yd
4671 m / 5138 yd
Bermuda
Penn Links
Bermuda
Gents < 28 | Ladies < 36
Facilities
n/a
Sir Henry Cotton
Hotel, S.A.
Rui Gago
Rob Cheney and Paul Tipper
Miguel Grosso
Information
Everyday from 7:45am to 8:00pm
Everyday from 7:45am to 8:00pm
Yes
Yes
No
With Restaurant and Snack bar
Without GPS
Manual and Electric
n/a
Tony Bennett (TB), Kevin Parry (KP)
Yes
Up to 16 years old
Tecnical
Totally
Sloping fairways
If Essential
16th
2 Ponds that come into play, plus lateral ditches
With Pines and other varieties
Few but nothing to acute
Typical UK style designed course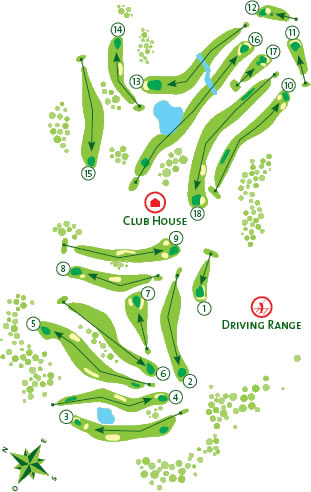 Directions:
Via Infante (A22) - Portimão Exit-5 and take road south into the town. After the third roundabout keep to the left hand side and go down and through a short tunnel. Keep straight on and about 1 km later road curves to the left and feeds into another road. Keep straight and on the third roundabout with fountain turn right into a dual carriageway going west. At the next roundabout turn to the right and the course entrance is about 0.4 kms on the right side off a smaller roundabout.
GPS:
Lat:
Lon:
Directions from:
Ok