Penina Championship
Course information & details
Description:
Penina Champoinship Golf Course was previously known as the Sir Henry Cotton Championship Golf Course. The main 18 holes provide the most demanding test of a players skill in the Algarve, if not in Portugal. The inevitable difficulty that a flat landscape and terrain creates with club selection, the holes are crossed and flanked by a series of streams, ditches and water hazards, demanding precisely executed shots to avoid trouble and achieve par.
The course is beautifully maintained, winding past tall stands of eucalyptus and clumps of palm to mainly elevated greens which have subtle slopes and sometimes treacherous speeds.
More Info ...
Details
Rates
Course Map
Location
Add to Shopping Cart
Details
18
73
6273 m / 6900 yd
5827 m / 6410 yd
5140 m / 5654 yd
Lolium Perene|Poa Pratensis|Creeping Bent
Creeping Bent Cobra
Lolium Perene|Poa Pratensis|Creeping Bent
Gents < 28 | Ladies < 36
Facilities
n/a
Henry Cotton
Sociedade Turística da Penina, SA
Leonel Rio
Bart Van der Wind, José Lourenço, José Marcelino
Luís Domingos
Information
Everyday from 7:45am to 8:00pm
Everyday from 7:45am to 8:00pm
Yes
Yes
Yes
With Restaurant and Snack bar
n/a
Manual and Electric
Standard Set|Taylor Made Set
Resident professionals
Yes
Up to 17 years old
Tecnical
Some gentle slopes on green approaches
On both 9's
Heavily with Umbrella Pines
If Essential
On both 9's, check on course planner required
Totally
5th
Premier Championship course in West Algarve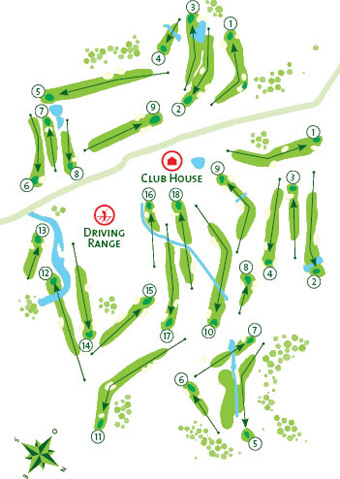 Directions:
Leaving Faro Airport, take the motorway A22 towards Loulé. After driving about 40 minutes, take the exit Alvor. You will come to a big round-about follow the signs to Figueira/Golf. You will find a BP Petrol Station after 500 m. on your left side is the entrance to the Penina Golf Resort.
GPS:
Lat:
Lon:
Directions from:
Ok