Santo Antonio Golf
Course information & details
Description:
Golf St Antonio , ex Parque da Floresta , is situated near the fishing village of Salema, near Sagres - one of the most important places in Portuguese and European history - and close to the Costa Vicentina nature reserve.
A hilly course, with sharply sloping fairways, several blind shots, and greens on hill tops, creating a strange but very pleasant effect, perfectly integrated into the landscape. As for playing the course, we feel that it becomes too tired sometimes unappealing to golfers who are not so young.
More Info ...
Details
Rates
Course Map
Location
Add to Shopping Cart
Details
18
71
5712 m / 6283 yd
5286 m / 5815 yd
4619 m / 5081 yd
Bermuda
Bent Grass
Bermuda
Gents < 28 | Ladies < 36
Facilities
n/a
Pepe Gonzalez
The Vigia Group
Alan Hodson
Alan Bateman,Ben Frost
Vitor Pinheiro,Nelson Candeias
Information
Everyday from 7:45am to 8:00pm
Everyday from 7:45am to 8:00pm
Yes
Yes
Yes
With Restaurant and Snack bar
n/a
Manual and Electric
Callaway|Wilson ProStaff
Resident professionals
No
Up to 16 years old
Tecnical
Severe slopes on and across most fairways, rarely a flat lie
Several holes
With Pines
Essential
Defined and can be seen
Mixture of Heath and Parkland
11th
A demanding course for all handicaps, fairly priced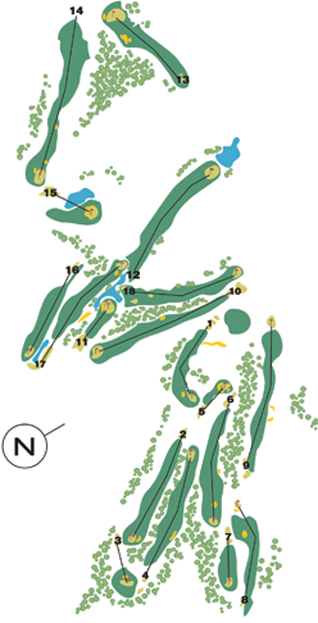 Directions:
Via Infante (A22) - Drive west and take the Sagres Exit-1. After leaving the motorway the second roundabout joins with the Road EN 125. Bear to the right and follow the traffic towards Sagres. Keep going and in time you pass the village of Budens on the right. At the next traffic lights on the right hand side is the entrance to the course.
GPS:
Lat:
Lon:
Directions from:
Ok