Morgado Golf Course
Course information & details
Description:
Morgado golf course the new home of the Portuguese Open, part of the European Tour tournaments Set in a valley in the inner Algarve, between Portimão and Monchique. Morgado golf course is equally challenge for those taking their first steps in golf as for the more experienced golf player, who would like to test his technique. The scorecard shows a PAR 73, but Morgado golf course path length is attenuated by the generous width of fairways. However, less accurate strokes may be penalized by the action of one of several bunkers spread across the golf course. We can say that Morgado golf course is a golf course with the characteristics of a links - with flat fairways and Scottish inspiration bunkers - but instead of being close to the shore as traditional links, it is inserted into an area of Algarve parkland. Surrounded by the region traditional tree species, the player who visits Morgado golf course contacts with a different Algarve, calm and serene, providing the perfect setting for a memorable golf round.
More Info ...
Details
Rates
Course Map
Location
Add to Shopping Cart
Details
18
73
6581 m / 7239 yd
6035 m / 6639 yd
5124 m / 5636 yd
Bermuda Tifton 419
Penn A4
Bermuda Tifton 419
Gents < 28 | Ladies < 36
Facilities
n/a
Russell Talley (European Golf Design)
Imoreguengo, Desenvolvimento e Promoção Imobiliária, SA
Jorge Papa
John Seymour
n/a
Information
Everyday from 7:00am to 8:00pm
Everyday from 7:00am to 8:00pm
Yes
Yes
Yes
With Restaurant and Snack bar
Without GPS
Manual & Electric
Rental Available
Resident professionals
Yes
Up to 16 years old
Tecnical
Total
Rolling terrain more hilly on the back 9
Recommended due to back 9
14th
On both 9's, but all visable
Wind direction and speed play a big part in club selection
Slight ones on the back 9
Inland course, very good value for money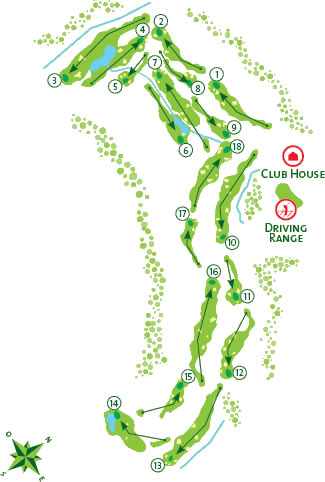 Directions:
Take the road to the north from Portimão in the direction of Monchique and Silves and under the new A22 Motorway. From the access roundabout of the A22 follow the signs to Monchique and Silves. After 1.1 kms take the well signposted left turn and drive a further 1.2 kms to the west where you take a right turn into the Morgado Estate. Follow the road to the Club House. (11.8 kilometres in total).
GPS:
Lat:
Lon:
Directions from:
Ok