Amendoeira Faldo
Course information & details
Description:
Nick Faldo Golf Course, designed by Nick Faldo, with strategic play in mind, this golf course demands careful positioning to score well, rocky outcrops, meandering watercourses and views to the distant mountains and orange groves defining its essential character.
Faldo golf course opens with a testing uphill, Par-4, offering a number of 'risk reward' opportunities.The downhill, Par-5, fourth encounters a meandering watercourse, which comes into play on three of the front 9 holes and two on the back niine.The inward 9 holes include several, blind holes which will become the talking point of the '19th hole cognoscenti'. Faldo golf course offers a serious testing for the mid low handicap players, and can be a serious nightmare for beginners. In all Faldo golf course needs to be played more then once to give any player a chance of a good score.
More Info ...
Details
Rates
Course Map
Location
Add to Shopping Cart
Details
18
72
6296 m / 6926 yd
5858 m / 6444 yd
4703 m / 5173 yd
Bermuda
Bentgrass
Bentgrass
Gents < 24 | Ladies < 36
Facilities
n/a
Nick Faldo
Oceânico Golf, S.A.
Tiago Francisco
Nelson Cavalheiro
Russ Wilson
Information
Everyday from 7:45am to 8:00pm
Everyday from 7:45am to 8:00pm
Yes
Yes
Yes
With Restaurant and Snack bar
Without GPS
Manual and Electric
Callaway
Resident professionals
Yes
Up to 17 years old
Tecnical
Rolling fairways, mounded on some holes
Some, clearly defined
Particulary on top of course
Inc in Green Fee
Several, but well defined
Yes
18th
Course designed with Major Competitons in mind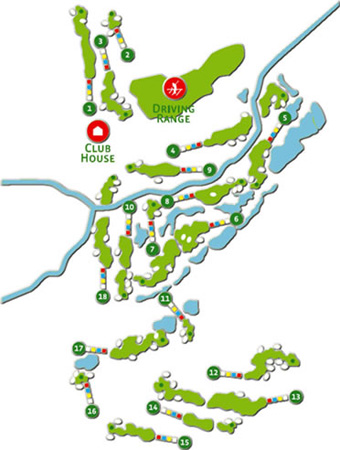 Directions:
The resort is just 35 minutes drive from Faro Airport along the A22 motorway, 4km inland from the beach resort of Armação de Pêra.
GPS:
Lat:
Lon:
Directions from:
Ok