Amendoeira O'Connor Jnr.
Course information & details
Description:
Oceânico O'Connor Golf Course, perfectly complements the Faldo Course, whilst taking advantage of the rich valley soil, in contrast to the arid hillside, this course offers no less of a challenge, requiring accurate play.
The front 9 holes encounter a number of lakes, the 3rd being recognized by a Moorish relic situated on a island in the adjacent lake. Holes 7, 8 and 9 offer a particular challenge, where the water hazards could force a lack of concentration. Hole-10 leads play away from the northern boundary, setting up the challenge for the inward nine. Large bodies of water and meandering watercourses will test players all the way to the 18th.
More Info ...
Details
Rates
Course Map
Location
Add to Shopping Cart
Details
18
72
6273 m / 6900 yd
5939 m / 6533 yd
5242 m / 5766 yd
Bermuda
Bent
Bent
Gents < 28 | Ladies < 36
Facilities
n/a
Christy O'Connor Jnr.
Oceânico Golf, S.A.
Tiago Francisco
Nelson Cavalheiro
João Fernandes
Information
Everyday from 7:45am to 8:00pm
Everyday from 7:45am to 8:00pm
Yes
Yes
Yes
With Restaurant and Snack bar
Without GPS
Manual and Electric
Callaway
Resident professionals
Yes
Up to 17 years old
Tecnical
flat terrain along orange groves
very much
Inc in Green Fee
a several water hazards
golfer friendly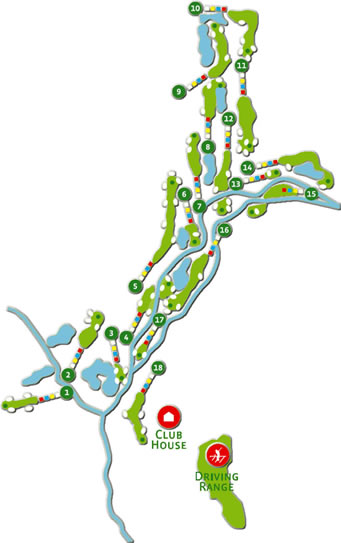 Directions:
The resort is just 35 minutes drive from Faro Airport along the A22 motorway, 4km inland from the beach resort of Armação de Pêra.
GPS:
Lat:
Lon:
Directions from:
Ok