Gramacho Golf Course
Course information & details
Description:
Gramacho Golf Course has 27 varied greens that enables the golfer to play the same course several times with different greens and new challenges. This golf course is maintained at tournament standard all the year round.
The wonderful characteristics already existing on the site, from the boulder outcrops and dry stone walling to the fig, carob and olive trees, have been complemented by artfully positioned lakes and bunkers. These hazards, combined with the design of the greens and fairways, result in a challenging but attractive golf course.
From the first stroke off the tee to the final green, the player must not just play the ball well but also adopt the best strategy to achieve an optimum result. At the end of the round, experienced golfers will be able to confirm that they have played a good golf course.
More Info ...
Details
Rates
Course Map
Location
Add to Shopping Cart
Details
18
72
5532 m / 6085 yd
5212 m / 5733 yd
4777 m / 5255 yd
Ray Grass
Bent Grass
Ray Grass
Gents < 27 | Ladies < 35
Facilities
n/a
Ronald Fream
Carvoeiro Golfe, SA
José Carlos Matias
Mark Gasper, Carlos Ribeiro
Miguel Grosso
Information
Everyday from 7:45am to 8:00pm
Everyday from 7:45am to 8:00pm
Yes
Yes
Yes
With Restaurant and Snack bar
n/a
Manual
Wilson|Callaway
Resident professionals
Yes
Up to 16 years old
Tecnical
Hilly terrain
On both 9's, some near 90 degrees
More so on the back 9
If Essential
On back 9, but well in view, exept the 17th
Yes
10th
Offers the player a chance to score well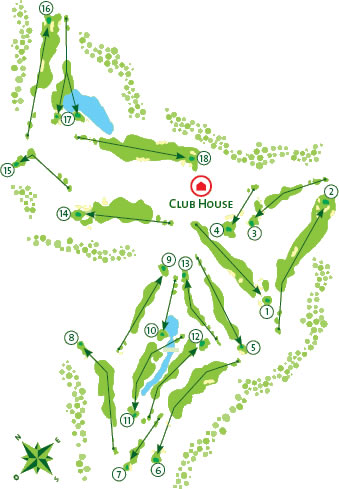 Directions:
The Pestana Golf Resort, Gramacho Course, is situated close to the town of Lagoa, 4 km from the village of Carvoeiro, 10 km from the village Portimão and 30 minutes away from Faro International Airport. From the airport, take the motorway (Via do Infante - A22), as far as the town of Lagoa. At the junction for Carvoeiro follow this road in the direction of Sesmarias. To assist you, you will find 'Pestana' signed from Lagoa.
GPS:
Lat:
Lon:
Directions from:
Ok