Pinheiros Altos
Course information & details
Description:
Pinheiros Altos Golf Course located within the well-known Quinta do Lago estate, within the golfing world it is known as providing a mental challenge due to well placed hazards. Bordering the 18,300 hectares of Natural Park of Ria Formosa which provides a habitat for many species of birds and has much interesting vegetation.
Pinheiros Altos is a combination of 27 holes composed by three groups of 9 holes named Oliveiras (Olives), Pinheiros (Pines) and Sobreiros (Corks), respectively. This highly original and distinctive course possesses completely opposing characteristics. The original 18-hole course of Pinheiros Altos was well-known for its contrasting nines. While the first 9-hole are over rolling sandy undergrowth with gentle pine trees, the shorter second 9-hole runs through hills dotted with lakes that present the main obstacle for the golfers on this course.
More Info ...
Details
Rates
Course Map
Location
Add to Shopping Cart
Details
27
72
9198 m / 10118 yd
8607 m / 9468 yd
7355 m / 8091 yd
Bermuda
Penn Cross
Bermuda
Gents < 28 | Ladies < 36
Facilities
n/a
Ronald Fream and Santana da Silva
JJW Worldwide
Christophe Rindlisbacher
Ross Sutherland, Kenny Fairbairn
Sesinando Rodrigues
Information
Everyday from 7:45am to 8:00pm
Everyday from 7:45am to 8:00pm
Yes
Yes
Yes
With Restaurant and Snack bar
n/a
Manual and Electric
Titleist
Resident professionals
Yes
Up to 17 years old
Tecnical
the old back nine Oilves
Mainly on Pines & Corks
yes, but nothing acute
On Pines & Corks loops
If Essential
Several lakes
Yes
The 8th on the Corks , probably the most dificult par5 in Portugal
Nice mixture of trees and lakes , allways in good condition .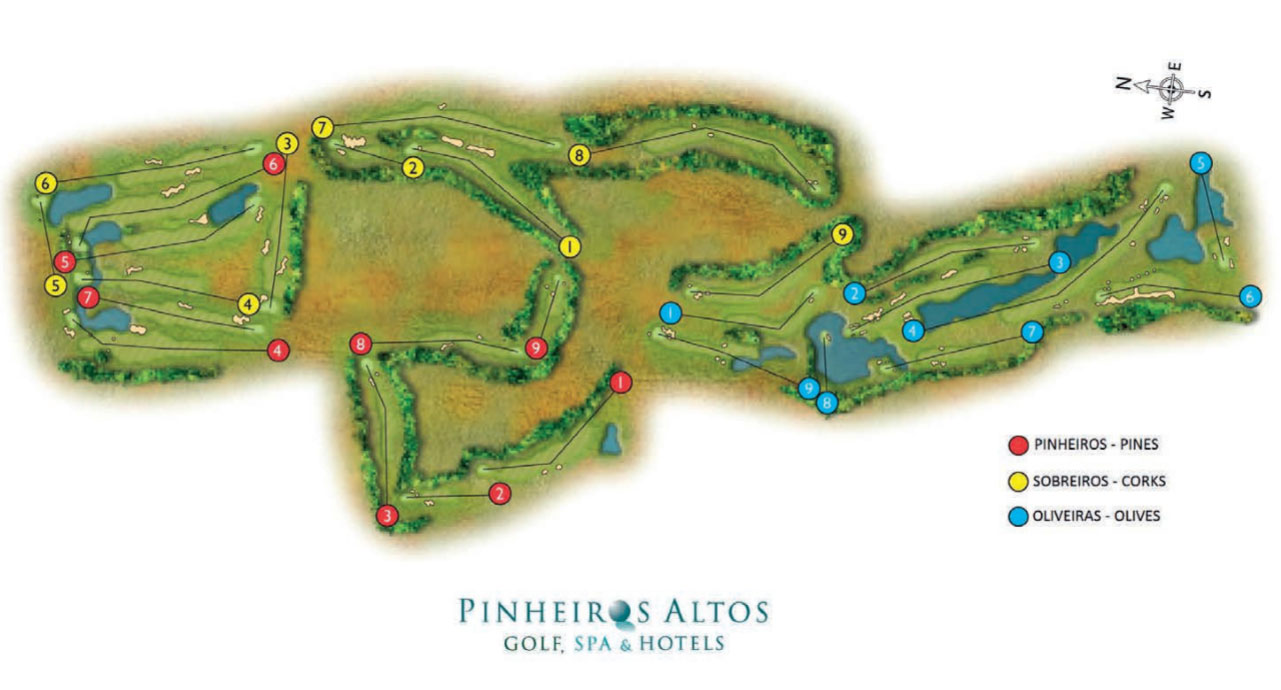 Directions:
Take the EN 125, when you arrive in Almancil proceed to Quinta do Lago. The Course is signposted and will be on the left.
GPS:
Lat:
Lon:
Directions from:
Ok