Silves Golf Course
Course information & details
Description:
Silves Golf Course is anything but the proverbial walk in the park. Target golf reigns supreme. A drive at the opening hole has to flirt with two water hazards on both flanks. A heroic and straight shot will reward the player with an easy uphill approach shot.
Silves encourages and rewards attacking play. It has a natural beauty and an elegant design. The excellent condition, all year round, is ideal for low scoring. A relentless test in precision, this course has no peers. It is the 'archetype' of man-sized parkland golf.
Most holes offer a spectacular mountain and valley view, overlooking palm trees and olive groves. You may even pick a few oranges or even figs along the way to the next tee. The severity of the bunkering is enough defence against the onslaught of the games big guns.
More Info ...
Details
Rates
Course Map
Location
Add to Shopping Cart
Details
18
70
5615 m / 6177 yd
5256 m / 5782 yd
4728 m / 5201 yd
Lolium Perenne
Penn A4
Penn A4
Gents < 27 | Ladies < 35
Facilities
n/a
Fausto Nascimento
Carvoeiro Golfe, SA
José Matias
Carlos Ribeiro
Miguel Grosso
Information
Everyday from 7:45am to 8:00pm
Everyday from 7:45am to 8:00pm
No
Yes
Yes
With Restaurant and Snack bar
Without GPS
Manual
Wilson|Callaway
Resident professionals
Yes
Up to 16 years old
Tecnical
Rolling fairways, not steep
A few gentle dog legs
Generally wind playing a part on difficulty
If Essential
a few water hazards ,especially on the par 5 , 13th hole
typicall algarve landsscape
13th, par 5
New course,reasonable value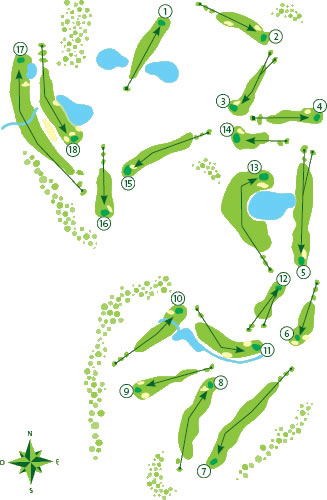 Directions:
Drive west along the A22 (Via Infante) motorway and turn off at Lagoa and bear right towards Silves. At the next roundabout bear right and then left back under the motorway - signs 'Golf' indicate the direction. Immediately bear right and follow the road to Silves train station. About 100 metres before crossing turn to the right and follow this winding road until you come to the entrance of the Course on the left side.
GPS:
Lat:
Lon:
Directions from:
Ok