Vale da Pinta Golf Course
Course information & details
Description:
Vale da Pinta Golf Course is one of the best-designed courses in Europe. It has earned a deserved reputation for the outstanding level of maintenance of the course, and its design, which makes it a challenge to golfers of all standards.
The rolling terrain is dotted with carob, fig, almond and olive trees, some of which are more than 600 years old, and a very special feature of this course is one olive tree that dates back more than 1200 years.
The size of the greens is specifically matched to the length of the approach shot. It is certain to be appreciated by experienced golfers, for whom a round on this course will provide genuine excitement and a memorable and enjoyable days play.
More Info ...
Details
Rates
Course Map
Location
Add to Shopping Cart
Details
18
71
5679 m / 6247 yd
5241 m / 5765 yd
4866 m / 5353 yd
Bermuda Grass
Penn Cross Bent
Penn Cross Bent
Gents < 27 | Ladies < 35
Facilities
n/a
Ronald Fream
Carvoeiro Golfe, SA
José Carlos Matias
Mark Gasper, Carlos Ribeiro
Miguel Grosso
Information
Everyday from 7:45am to 8:00pm
Everyday from 7:45am to 8:00pm
Yes
Yes
Yes
With Restaurant and Snack bar
n/a
Manual
Wilson|Callaway
Resident professionals
Yes
Up to 16 years old
Tecnical
Rolling fairways
Several on both 9's
Sparse Olives
More so on back 9
If Essential
5th and 13th
Park and Heath Land feel
13th
Excellent value for money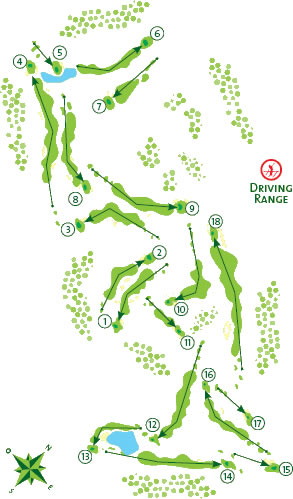 Directions:
The Pestana Golf Resort, is situated close to the town of Lagoa, 4 km from the village of Carvoeiro, 10 km from the village Portimão and 30 minutes away from Faro International Airport. From the airport, take the motorway (Via do Infante - A22), as far as the town of Lagoa. At the junction for Carvoeiro follow this road in the direction of Sesmarias. To assist you, you will find 'Pestana' signed from Lagoa.
GPS:
Lat:
Lon:
Directions from:
Ok